---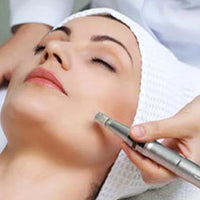 What are the benefits of Microneedling?
Reduction if fine lines, wrinkles, improved skin tone and texture, and softer, younger looking skin with fewer signs of aging. Microneedling improves the appearance of hypergmentation as well as uneven skin tone, acne scars, traumatic scars, and stretch marks.
This treatment is finished with LED Light therapy to promote quicker healing. 
*This treatment  doesn't ship. Address is required when purchasing.