---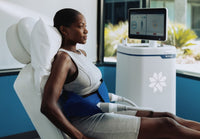 What is Coolsculpting?
Coolsculpting is a non-surgical fat reduction treatment and alternative to liposuction that freezes away fat from the belly, love handles, thighs, bra fat, chest, double chin and arms. Over 8 million treatments have been performed worldwide. The treatment requires no anesthesia, no surgery, and little to no downtime. Each treatment takes only 35-minutes to an hour.
How to purchase Coolsculpting Cycles:
Purchase as many CoolSculpting cycles as you want at our lowest prices of the year!
After you purchase your cycles, give us a call to schedule your treatment.
We are open Monday-Saturday.
How many cycles should you purchase?
Coolsculpting is a highly customizable treatment.
Some people need one treatment, while some would benefit most from at least two treatments.
In addition, there are small cycles and large cycles.
Small cycles are for smaller areas of fat and are counted as one cycle.
Large cycles are for larger areas of fat and are double the size of a small cycle and count as two cycles.
Here is a range of small cycles you may need for one treatment of Coolsculpting:
Abdomen: 2-8 cycles
Love Handles: 2-4 cycles
Inner Thighs: 2 cycles
Outer Thighs: 2 cycles
Arms: 2 - 4 cycles
Chin: 1 - 4 cycles
Bra Fat or Back Fat - 2 -4 cycles
These should give you a general idea of the amount of cycles you may need for the area you want to treat with Coolsculpting.
The exact amount of cycles you need will be determined before your treatment during your consultation.
If you purchase more cycles than you need, we can reimburse you for your unused cycles as long you adhere to our refund conditions listed below.

How many Coolsculpting treatments will I need?
Most of the time, we recommend our patients get two Coolsculpting treatments to get the best results, however this will be determined during your consultation.
Why choose Healthy Solutions by Dr. Luciano Medspa for your CoolSculpting treatment?
We have two Coolsculpting machines which means we can perform DualSculpting and cut your treatment time on most areas of the body in half so you can spend less time in our office and more time doing the things you love.
We have over 175 five star Google reviews.
We are Coolsculpting experts and have attended Coolsculpting University to ensure we provide our patients with the best body contouring results.

Is my purchase transferable and is it refundable?
Yes. Your Coolsculpting cycle purchase is transferable, so you can buy Coolsculpting cycles for your friends, family, and anyone else you want.
As long as they are a Coolsculpting candidate for CoolSculpting, we would be able to treat them!

How long do I have to schedule my treatment?
There is no limit to how far out you can schedule your treatment, but we do recommend you schedule it as soon as possible so that you can see your body transformation results sooner rather than later!

When does this offer expire?
This is offer is good while supplies last and will expire on, Nov. 30, 2020 or when we sell out of all CoolSculpting cycles designated for this offer, whichever comes first.

Important Information:
The number of cycles you require is determined during your consultation. The ONLY area that you may need just 1 cycle is your chin or possibly the upper abdomen.
All other areas require AT LEAST 2 cycles or more.
Most people purchase at least 6 cycles.
Once you purchase your CoolSculpting cycles at our online store, we will call you to schedule your CoolSculpting treatment.
We look forward to Freezing your fat away!

*This treatment  doesn't ship. Address is required when purchasing.