---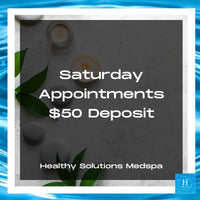 Saturday appointments require a $50 deposit that will be applied towards your treatment.
*This is non-refundable deposit if you cancel your appointment less than 24 hours or you fail to show up to your appointment. 
Your appointment is very important to us. It is reserved especially for you. We understand that sometimes schedule adjustments are necessary. Therefore, we respectfully request at least 24 hour notice for cancellations or rescheduling of appointments.

Please understand that when you forget, cancel, or change your appointment without giving enough notice, we miss the opportunity to fill that appointment time, and clients on our wait list miss the opportunity to receive services.

In additional, Healthy Solutions Medspa values their team's weekend time. Our team members have family, and friends with whom they could be spending time. Healthy Solutions Medspa pays their staff their entire wage for any missed or late cancelled appointment out of respect for their valuable time. Therefore, we are strictly enforcing our 24 hour cancellation and rescheduling policy.
If you cancel your appointment with more than 24 hour notice, we can refund this to you.
If you reschedule your appointment with more than 24 hour notice, we will apply it towards your treatment on your rescheduled date.