---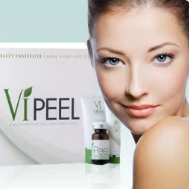 The VI Peels is a virtually pain free peel that is safe for all skin types, including darker skin tones.

This peel improves tone, texture, and clarity of the skin. It reduces age spots, hyperpigmentation, melasma, and softens fine lines and wrinkles.

It is also an excellent choice to address acne and reduce acne scars. The VI peel stimulates the production of collagen, for healthier, firmer more youthful skin.